With no more Help to Buy, consider Shared Ownership
20 March 2023
How can you get on the property ladder? With today's climate, it can be difficult for house-hunters to secure their first home, however the Government introduced a range of initiatives to help you get onto the property ladder. Ten years after its launch, the Help to Buy scheme has recently ended, but there are still other alternatives to becoming a homeowner, such as Shared Ownership. 
Here's the run-down on how Shared Ownership can help you make your dream of getting on the property ladder a reality.
What is Shared Ownership?
Shared Ownership gives first-time buyers a more achievable and often less burdensome route to home ownership. The Government backed scheme essentially enables those who are unable to purchase a property on the wider market to instead buy a percentage of a home and pay rent on the remaining portion.
How it works
Shared Ownership involves purchasing a stake of as little as 25% of a property from a home provider, and paying them the monthly rent on the remaining portion and a service charge.
Where the traditional route to home ownership may require a large deposit, Shared Ownership is aimed at first-time buyers, growing families, and those with lower incomes who may struggle to get on the property ladder this way. The scheme offers a reduced initial deposit and the opportunity to buy between 25% and 75% of a home, though on some properties, the minimum initial share may be higher than 25%. First-time buyers are required to purchase the largest share that is financially viable for them.
More accessible to people with fewer savings and lower incomes, Shared Ownership is a way to get on the property ladder as part of an assured tenancy by owning some of your home while paying rent and mortgage payments that are likely to work out cheaper than either renting or buying outright.
What are the costs?
When considering a Shared Ownership home, it's important to be aware of the various costs involved, both before and after you move into your new property.
One of the main benefits of Shared Ownership is that the deposit you pay is typically much lower than if you went the traditional mortgage route. This is because the deposit is based on your share of the property, rather than the entire value. A typical Shared Ownership deposit is between 5-10% of the portion of the property you purchase.
Let's say you want to purchase an apartment at The Moorings, valued at £390,000. Luckily, with Shared Ownership you don't need to pay the full amount. Instead, you can opt to purchase a 25% share of the property – £97,500. You then need to raise a 10% deposit for your 25% share – just £9,750 – and secure a mortgage on the outstanding amount.
After you have moved into the property, if you decide you want to own the property outright, you can increase your share to 100% – something we call 'Staircasing'.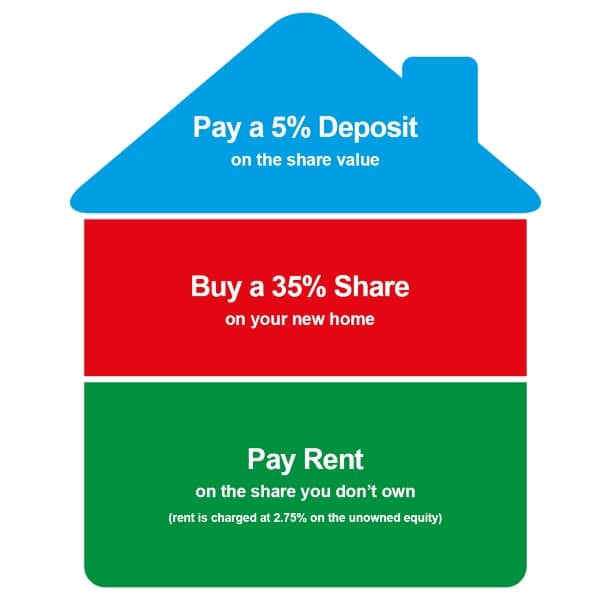 Shared Ownership Availability
Set yourself up for success this year with a brand new Shared Ownership home. Say goodbye to the pain points of private landlords, flatmates and renting and instead, get your foot on the property ladder and achieve your goal of home ownership. Choose an affordable, top quality, modern apartment or house, which you can increase your level of ownership over as it suits you.
Start your search by viewing our current available properties or head to our social media profiles on Instagram and Facebook to ask your property questions. #LandGAH