Shared Ownership 101
Your Essential Guide to All Things Shared Ownership
Want to find out more about how you can get on the property ladder with Shared Ownership?
Supporting those who are unable to purchase a property on the wider market, Shared Ownership is particularly common for first-time buyers. With Shared Ownership, you buy a percentage of a property, then pay rent on the remaining portion, with the option to increase your share at a later date. Shared Ownership is a way to purchase your own property, without the high deposit of purchasing outright.
Watch our video
Sit back and enjoy this simple video to help you understand how Shared Ownership works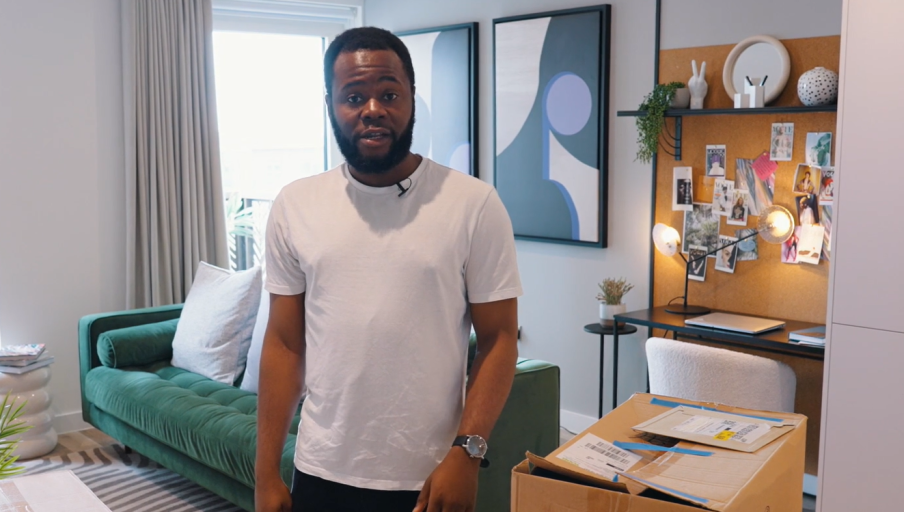 What is Shared Ownership?
Shared Ownership gives you the stability and security of owning your own home in an affordable way. With Shared Ownership, you buy a percentage of a property – usually between 25% and 75% – then pay a monthly rent on the remaining portion. With most affordable housing schemes in the UK, this monthly rent is subsidised by the government via Homes England.
Shared Ownership was created to help people get on the property ladder, set against the backdrop of an acute shortage of affordable housing in the UK.
Where traditional routes to home ownership – such as outright purchase or large mortgages – may be financially impractical or impossible, Shared Ownership combines owning and renting in an affordable way – targeted at those who would not otherwise be able to afford to buy their own home.
Once you've bought a portion of a Shared Ownership property, you have the opportunity to increase your share later on – in a process known as "staircasing". Over time you might increase your share to 100%.
What costs are involved with buying through Shared Ownership?
When considering a Shared Ownership home, you should be aware of the various costs involved, including what you will be expected to pay once you move into your new property.
Deposit
A key benefit of Shared Ownership is that the deposit you pay is typically much lower than if you bought a property via a traditional mortgage. This is because the deposit is based on your share, rather than the value of the entire property. A typical Shared Ownership deposit is between 5-10%.
For example, if the full value of a property is £200,000, you might decide to purchase a 25% share of it. With a required deposit of 5%, you would need to put down a £2,500 deposit.
A property of the same value bought by a first-time buyer through a traditional mortgage might require a 15% deposit on the entire value – which in this case would be £30,000.
Solicitor's fees
You will need a solicitor or conveyancer to manage the necessary legal work. Before a mortgage application can be submitted you must have instructed a solicitor. They must be approved to work for your mortgage lender. How much you pay is normally based on a fixed cost basis, so you shouldn't be hit with any unexpected fees.
Mortgage Broker's fees
You will probably need to take out a mortgage to cover the cost of your share of the property. Mortgage brokers will charge a fee for their services.
Removals and other moving costs
You'll need a sum to cover costs such as removals fees and other services. As a rough guide, you should set aside £4,000 for these costs.
Stamp Duty on Shared Ownership
The following figures relate to buying property in England. A similar tax is collected separately in Scotland, Wales, and Northern Ireland, at differing rates. Currently, all Legal & General Affordable Homes are located in England.
For first time buyers, if the property value is no more than £500,000, no Stamp Duty is payable on the first £300,000 of the purchase price. 5% is payable on any value from £300,001 and £500,000.
For those who have owned a property before, Stamp Duty is 0% on the first £125,000, with 2% payable on any sum from £125,001 and £250,000. 5% tax is payable on the next £250,000 to £925,000.
You can choose to pay Stamp Duty on the entire value of the property – which while initially expensive means you won't have to pay Stamp Duty ever again.
Alternatively, you can pay Stamp Duty on your share, which could well be less than the allowance for first-time buyers, then pay the rest in stages. You would not have to pay any further Stamp Duty until your share of the property reaches 80%.
The best approach to paying Stamp Duty will depend on your specific circumstances. Your solicitor or other legal advisers will be able to help you make this decision.
Ongoing costs of your Shared Ownership home
Mortgage
Service charge
Rent
Insurance
Mortgage
Monthly repayments on your mortgage: The sum you repay each month will depend on the size of your share in the property, the deposit you lay down, and the agreed interest rate on the sum borrowed.
Service charge
This fee is charged by the housing provider and covers repairs and maintenance of things like communal areas, lifts, lighting, gardens or open spaces and building insurance. This fee can vary from year to year. Any rises must be considered reasonable.
Rent
Typically, Legal & General Affordable Homes charge an annual rent of 2.75% on the portion of the property you don't own. So if you owned 25%, we would charge 2.75% rent on the remaining 75%. In this example, if the full value of your property was £250,000, your rent would be based on £187,500, equating to an annual rent of £5,156.25 and a monthly rent of £429.69.
Insurance
As mentioned, the service charge will likely cover buildings insurance. But you would be responsible for taking out contents insurance, covering your own belongings, furniture, white goods etc.
Shared Ownership eligibility
To make things a little easier, below we have listed the criteria you would need to meet in order to be eligible for a Shared Ownership home.
In addition, it's important to have savings to cover the costs of buying a Shared Ownership property. As a rough guide, this sum should be around £5,000, though this will increase once stamp duty is reintroduced on the 1st July 2021.
You must be at least 18 years old.
Shared Ownership purchasers are often first time buyers, but if you own another property – either in the UK or abroad – you must be in the process of selling it to be eligible for Shared Ownership.
You should not be able to afford to buy a property suitable for your housing requirements on the open market.
You must demonstrate you are not in rent or mortgage arrears.
In order to be eligible for a Shared Ownership property, your annual income must not exceed £80,000 (or £90,000 if you live in London). If you plan to buy a Shared Ownership property with someone else, your combined income must not exceed the relevant maximum amount.
In order to be considered for a Shared Ownership property, you must have a good credit history; the better it is, the more likely you'll be accepted onto the scheme. Your credit history is determined by a number of criteria, including not having been declared bankrupt in the last 6 years; not having any unsatisfied County Court Judgement (CCJ) registered against your name, and not being in arrears with any tenancy payments or mortgage repayments.
Visit our FAQ section for a more complete idea of what constitutes a good credit history.
You will also need the deposit amount, usually, between 5-10% of the equity share you are purchasing.
Selling Shared Ownership
You may decide at some point to sell the equity share in your Shared Ownership property – also known as a resale. As part of your lease agreement, you would need to allow Legal & General Affordable Homes a certain period to find a suitable buyer for your share. This is to help another eligible purchaser – usually a first-time buyer – onto the property market. If a buyer is not found in this period, you would be able to sell your share on the open market.
However, if you have increased your share to 100%, you would of course be able to sell the property on the open market.
Like any home, the market value of your property can rise and fall over time, depending on the housing market.
For more information, please contact our dedicated Sales Team who will be delighted to help you find your new home.