Is Shared Ownership cheaper than renting in London?
9 February 2022
A Legal & General Affordable Home is new, clean, untouched by previous owners and could be cheaper than renting privately in the capital. A Shared Ownership home provides a blank canvas for you to transform with your own style and personality, from day one. Think new decor, new neighbours, a new area and new opportunities with no landlord in sight!

What is Shared Ownership?
If you've already started your Shared Ownership journey, then you will know that the Government-backed scheme enables first-time buyers – or those who do not currently own a property – the opportunity to purchase a home at an affordable price. Saving up for a deposit for a home in London can feel impossible, which is where Shared Ownership can be a much more affordable option.
Shared Ownership works by allowing a homebuyer to buy a share of a property, otherwise known as the 'share value'. This share value is typically between 25% and 75% of the purchase price and represents how much of the property the buyer owns.
Your deposit is usually much lower than if you were buying on the open market, meaning you can get on the property ladder sooner than you thought possible.
A discounted rent is then paid on the share of the property not purchased. This popular process can often work out cheaper than renting, especially in London.
Shared Ownership vs Renting; a comparison
The average rental value in West London today is £918 per week. Compared to a one-bedroom apartment at The Moorings, also in West London, with a total price of £390,000 and a 25% share value of £95,700, the remaining rent is only £670 per calendar month.
In North London, the average rent is £711 per week. In comparison, the monthly rent at Trent Park in North London is £761 when you purchase a 25% share of a £442,500 one bedroom home, worth £110,625.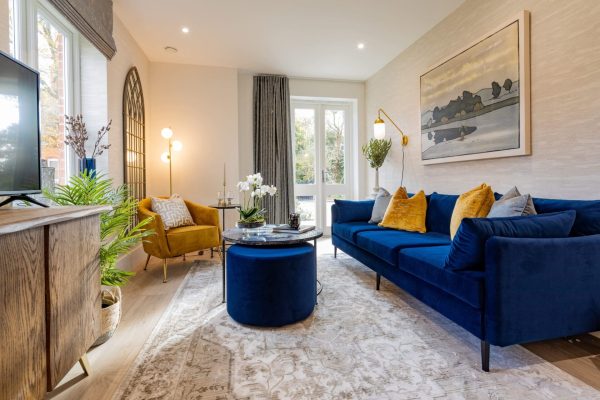 Looking to take the first step? Check out our Affordability Calculator and download our budgeting sheet to start your journey.
Get more for your money
New homes are also built to a much higher specification than the majority of older homes, which means you get so much more for your money. They feature central heating, modern appliances and double glazing all included in the price.
Many bedrooms come with built-in storage, as well as en-suites, and thanks to superior contemporary materials new builds are typically cheaper to heat than older homes meaning you're getting even more for your money.
Interested in finding your dream home?
We provide an array of affordable, top quality, modern apartments and houses across England, all of which are available to purchase with Shared Ownership. Start your search by viewing our current properties available. Or, head to our social media profiles on Instagram and Facebook to ask your property questions. #LandGAH