The Beauty of Brentford – West London's Secret Treasure
25 April 2021
Beautiful Brentford is home to some of London's secret treasures; from the Royal Botanic Gardens to Kew Palace, the historic area is more than just a scenic North London Borough. Plus, The Moorings, our much-anticipated Shared Ownership development of one, two and three-bedroom apartments, is situated in the heart of the neighbourhood. Check out our favourite nearby attractions, below.
Syon House & Park
This note-worthy attraction sits a short stroll west of Brentford and is one of the last great houses of London, remaining family owned for the past 400 years. Despite the house being privately owned, Syon Park Gardens and Visitor Centre is open to the public, and even doubles up as a popular wedding venue. Birdie's Kitchen is open 9am-5pm and offers a selection of empanadas, salads, paninis and freshly made cakes to ensure you're as bright as the flowers.
Kew Palace
Just south of Brentford is the home of the legendary Royal Kew Palace, sat alongside the banks of the river Thames. Dating back to 1631 and originally a much larger site, the Palace was home to notable Royals, including George III and Queen Charlotte, from 1728 until 1844.
Fast forward a few centuries, and the main attraction, Dutch House, is a Grade I listed building which welcomes visitors all year round. Stop by to learn the powerful story of George III, his mental illness and the members of his family who lived and died at the Palace.
The Royal Botanic Gardens
A short stroll from Brentford is the famous Royal Botanic Gardens, home of world-leading botanical research and an educational institute in its own right. The Gardens unlock the amazing power of plants, with over 50,000 living flowers, plants and trees from the Arctic to the Tropics. Fun for all the family, and with more than 500 acres of woodland to explore, there are special shows and attractions throughout the year, including the infamous Christmas lights display.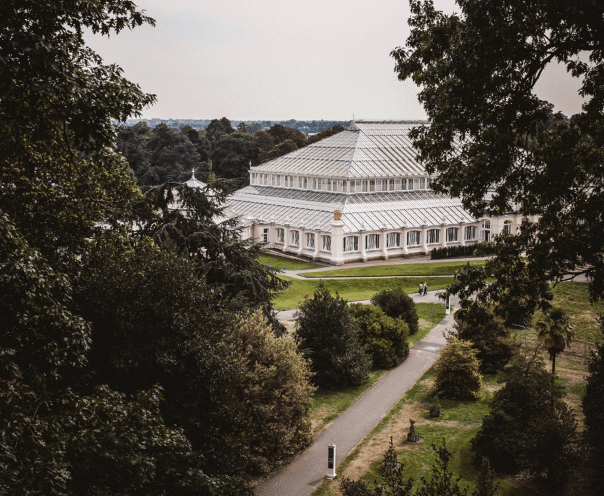 Watermans Arts Centre
Watermans is West London's leading arts centre, situated on Brentford High Street. The centre offers fun for all the family, with an independent cinema showing recent films from just £5 – a bargain if you ask us. With the venue also hosting the annual New Media Arts Exhibition Programme, there's always an activity or occasion to attend at the centre. What's more, you can take your pick of where to eat, with a wide variety of restaurants and cafes available on site.
Brentford Lock Canalside
Looking to wind down and recalibrate on a relaxing walk? Look no further; Brentford Lock Canal is a waterside haven, offering a calm setting for an idyllic stroll or chance to feed the ducks. If you're feeling peckish, the canalside is home to a variety of small independent cafés – adding to its charm.
Book your viewing today
The Moorings in Brentford, home to a stunning collection of contemporary apartments, offer you the opportunity to enjoy all these local attractions and more. Plus, with Shared Ownership, you're able to purchase a share of one of these desirable, well-connected homes at a fraction of the market price.
To register or book a viewing in this stunning development, you can click here. Or, head to our social media profiles on Instagram and Facebook (@legalandgeneralaffordable) to ask any further questions. #LandGAH #TheMooringsLGAH