Trent Country Park, Enfield: North London's Parkland
15 December 2020
Enfield is home to one of London's most treasured areas of green space; Trent Country Park. Luckily, the historic grounds are more than just a pretty picture. Forming part of the Capital's Green Belt, this nature hotspot has a rich story to tell that dates back hundreds of years. Plus, our Shared Ownership development, also named Trent Park, is situated in the heart of this beautiful country estate. Read on for our highlights.
Woodlands and Walking Routes
Trent Country Park pre-dates the ninth century when it was part of Enfield Wood. Years later, the land was claimed and eventually turned it into a royal hunting forest, hosting a few kings and queens.
Fast forward a few centuries and the impressive grounds now offer six expansive woods, two cafes, two walking routes and a magnificent nature trail, all for your enjoyment… in the company of a squirrel or two.
Memorials
Within Trent Country Park lies three poignant historical sites in the form of Sassoon's Obelisk, The Duke's Pyramid and The Emma Crewe 'Pineapple'. Each memorial commemorates a significant person from Britain's past; making for a sentimental and peaceful break within the grounds.
Wildlife Rescue and Ambulance Park
This noteworthy charity and popular venue is dedicated to helping wild animals and birds in the area. Founded in 1985, the team provide a safe home for rescued wildlife who are sick, injured or orphaned.
Wherever possible, their rehabilitation programme aims to release animals and birds back into to the wild. Otherwise, the furry friends take up permanent residence at this haven. Why not show your support by paying a visit to the tearoom and wildlife centre?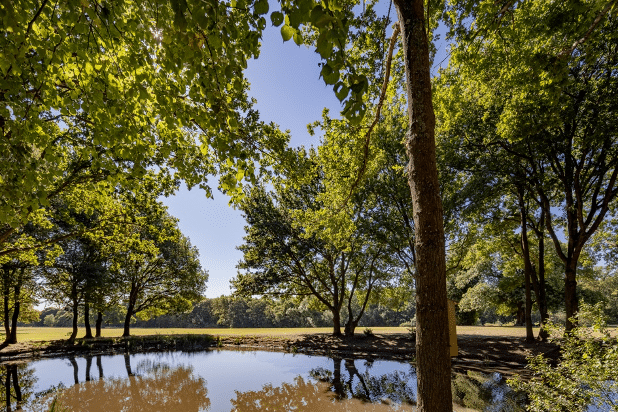 Water Gardens, Lakes and Moats
The Water Garden at Trent park was originally laid out by Sir Phillip Sassoon, a British politician, in the late 1920s and partially restored in the 1980s. This romantic retreat sits under a canopy of Oak and Ash trees and boasts charming bridges and tranquil ponds.
If water is your element, then stop by the beautiful 14th century Camlet Moat on the northern boundary of the park, which is the largest of its kind in the area.
Trent Park Golf Course
This much-loved and well-respected golf course most certainly deserves a mention. Voted London's #1 golf course, the eighteen-hole course was built in 1974 and offers stunning views of the lush fairways and surrounding parkland.
Players of all abilities are welcome as the course is both challenging and forgiving, and lessons are also available.
Book your viewing today
Our Trent Park development is situated within Trent Country Park's 400 acres and features an exquisite collection of one, two and three bed apartments. Available with Shared Ownership, you're able to purchase a share of one of these desirable homes at a fraction of the market price. 
To register your interest in this remarkable development, you can click here. Or, head to our social media profiles on Instagram and Facebook (@legalandgeneralaffordable) to ask your property questions. #LandGAH #TrentParkLGAH